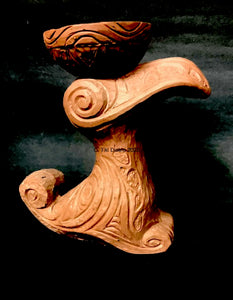 One of the latest in the line up of our, so fresh it's from the future, mugs🪄
This tropical foul thinks he's ham!
Balancing a bowl on his head and just.... being a bird
He's 8 ish inches tall and just about 7' across, we'll see.
This series 300
 When will they ship? Who knows? Just kidding.. looks like Fall 2023. We will do our best! Please help me pack!
one per household pretty please>

Make sure to select "PARTIAL CHECKOUT" please, or it may charge the whole amount.
Please don't pay the full amount, thank you- I will fix any errors so don't hesitate to email! We are trying to make collecting accessible and fun for everyone. So be free to order in your own time...
*All images shown are the original hand sculpt models. Final finish will be in the classic Tiki Diablo glazing style, mostly matte glaze with hand painted details*

When inventory is ready to ship, you will receive an email for the balance. Login to your account, preferably on a desk or lap top, double check the order and pay remainder.
SHIPPING and tax calculated at final payment.
You will receive a tracking 3 days prior to shipment, for any address adjustments

Thank you!
 Hand Made Signature Series. Made in Los Angeles, by us. Flipping is discouraged, but we are not the boss of you, cheers!